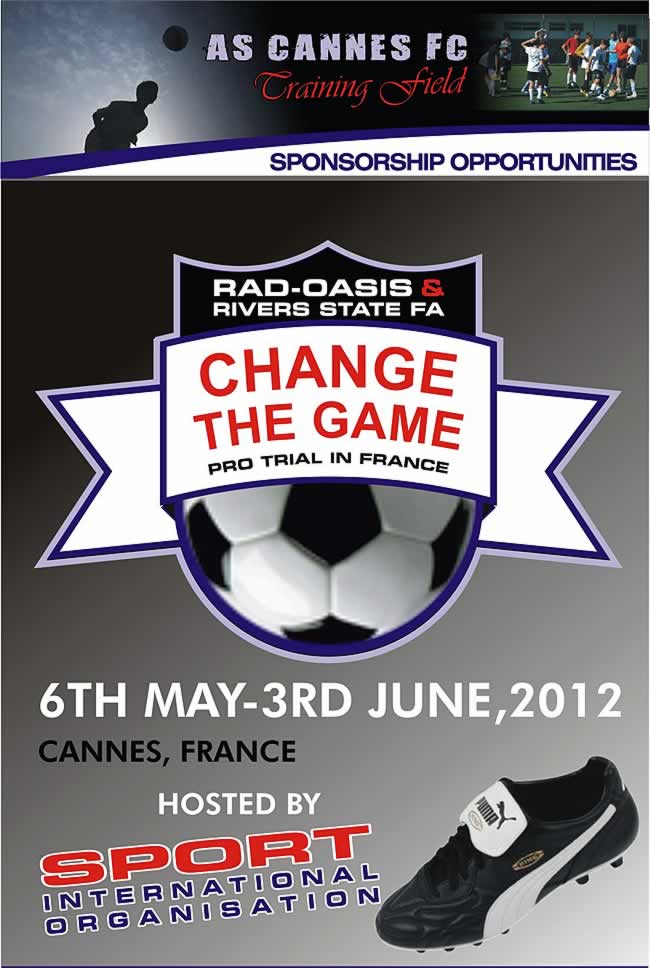 ABOUT THE PRO-CLUB TRIAL PROGRAM IN FRANCE
ABOUT THE PRO-CLUB TRIAL PROGRAM IN FRANCE
Professional French club trials in French Riviera area under the management of former French National Team Coach, Michael Hidalgo, Luc Rabat (Coach of the French U19 & U17 National Selection & Vice national Technical Director of French Football Federation, and our affiliated FIFA Player Agents in France!
It is exclusively for Team Rivers Football Players. The Champions of the 17th National Sports festival tagged ''Garden City Games 2011'' for an exceptional professional Football trial experience in Southern France unlike any other. This football program is an opportunity for 2011 National Sports Festival Football Champions to be exposed to professional French football clubs and FIFA agents and scouts in the picturesque and football mad French Riviera!
Michael Hildalgo will come and meet each of the players and he will personally evaluate the progress on the field with his team of passionate coaches.
Players will have the opportunity of signing with professional club.
Meet Local FIFA player Agent.
Meet and train with professional players.
HILDALGO INTERNATIONAL FOOTBALL ACADEMY
PROGRAM INCLUDES
• Accommodation and 3 meals per day at the international college of Cannes
• Gym access – fully supervised by HIFA staff
• Physical conditioning sessions supervised by HIFA staff (2 per week)
• 3 weeks of training sessions with professional or semi-professional teams in the area of cannes (AS Monaco FC, Olympic Marseille, OGC Nice, AS Cannes FC, Frejus saint Raphael, ESCR, RC Grasse)
• French Language lessons at the international college of cannes (approx 3 hrs / day Mon – Fri)
• Player Management services
• Airport Pick up / drop off
• Travel Medical Insurance
All participants will begin week # 1 with the 3rd senior team of AS Cannes. During this week the France – Michel Hidalgo Academy Staff will evaluate each participant's ability level and make recommendations to our local player Agent who will then arrange the subsequent week # 2 and week # 3 trial weeks with the local clubs appropriate to each individual's ability.
Example Itinerary
Week # 1 (Evaluation) – AS Cannes 3rd team – French Division 7
Week # 2 – Le Cannet Rocheville 1st team – French Division 6
AS Cannes 2nd team – French Division 5
Week # 3 RC Grasse 1st team – French Division 4
Monaco 2nd team – French Division 4
Nice 2nd team – French Division 4
AS Cannes 1st team – French Division 3
Frejus 1st team – French Division 3.