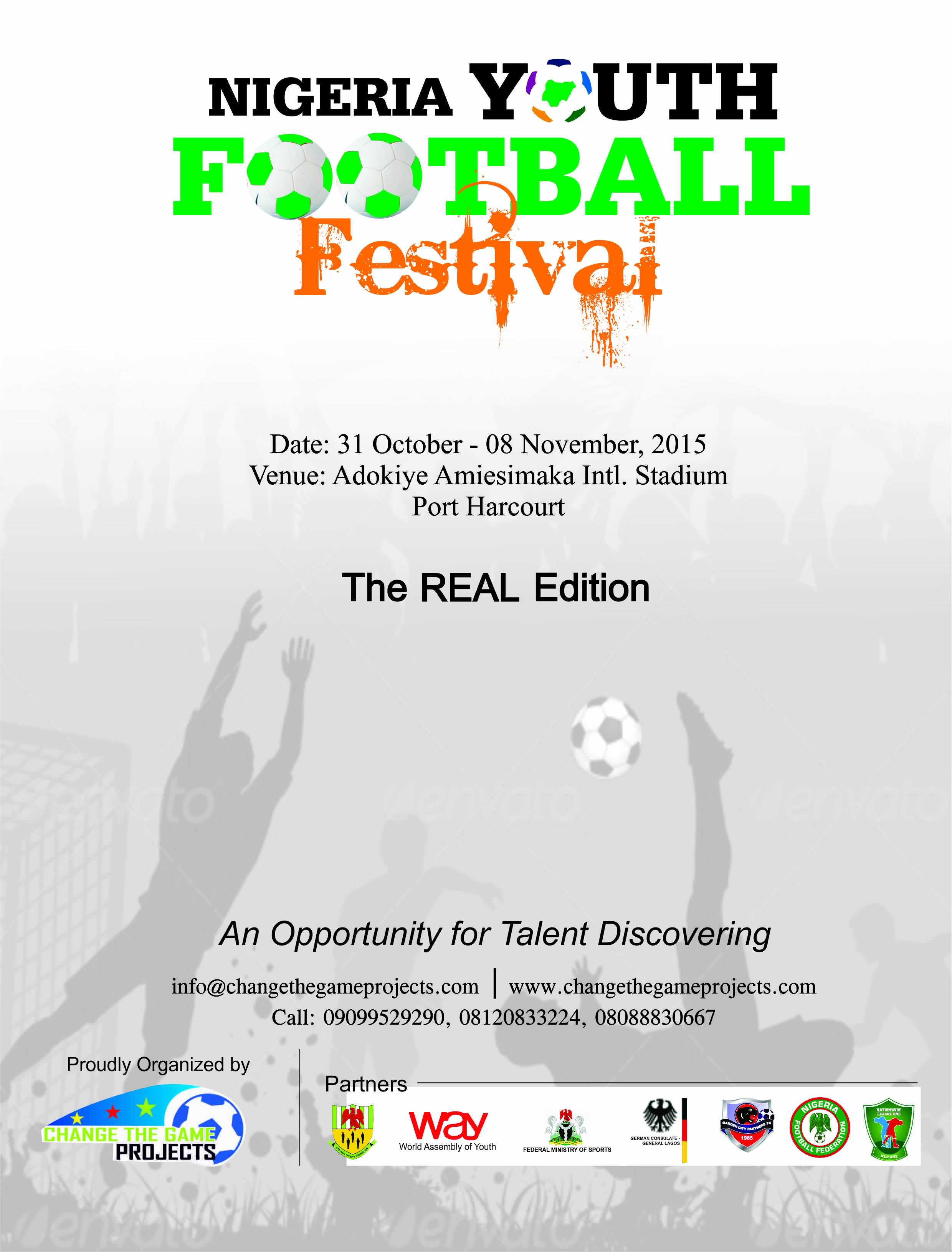 Nigeria Youth Football Festival 2015
THE ORGANIZER
CHANGE THE GAME PROJECTS is the proud organizer of the Nigeria International Youth Football Festival 2015. In cooperation with the NFF, NSC, City of Port Harcourt, Government of Rivers State, Federal Ministry of Sports through: National Sports Commission. This is a grassroots football tournament for youths to be held at the Amiesimaka Stadium in Port Harcourt. The eight-day World Cup is created in 2015 and will grow into a multicultural football festival with more than sixty four teams participating from all 36 States including the FCT. Nigeria International Youth Football Festival 2015 is life changing platform to the youths of Nigeria.
 BENEFITS FOR PARTICIPATING
Players who impresses the over 20 foreign football scouts will be invited for further professional football trials in Europe and successful ones will sign professional contract.
Participating Team(s) benefits if a player signs from the team sign professional contract.
Winner of the Festival get:    #1,500,000.
1st Runner Up gets:                 #1,000,000.
2nd Runner Up gets:               #500,000.
COMPLIANCE
The tournament will be sanctioned by Nigeria Football Federation, and endorsed by National Sports Council,, Nationwide League One, and Rivers State FA.
Who May Participate?
All youth football teams, school teams and academies, are eligible to participate in the Nigeria Youth Football Festival.  It is opens to the amateur players only and High school teams.
The tournament is played under all applicable FIFA or Nigeria Football Federation rules.
Number of Players per Team
There are a maximum limit sixteen number of players in each participating team. However, only four substitutes are allowed in each match of 11-a-side. All players must be able to show proof of age and identity. We recommend that all players use the same shirt number throughout the tournament.
Number of Teams in the Tournament
It is our aim that all teams wishing to take part in the Nigeria Youth Football Festival should be able to do so by paying the registration fee and downloading, completing and submit the registration forms which can be find on our website: www.changethegameprojects.com
There will be a maximum of 64 teams to participate in the tournament festival.
Entry & Payments
Teams must register by collecting the tournament registration forms from the tournament organizers the team fee deposit together with the completed application form must be received by the Change The Game Projects no later than September 20, 2015. The team fee cannot be refunded. There are a limited number of teams accepted in this category.
All payments for the tournament registration fee must be paid into Change The Game Bank Account for the Nigeria Youth Football Festival: 
Note that all bank transaction fees have to be paid for by the teams. Please observe that we do not accept any personal or company cheques.
 REGISTRATION PACKAGES:
PACKAGE 'A' (REGISTRATION ONLY) = #80,000 (Mandatory)
Team Registration / Participation fee per Team (Mandatory Fee).
PACKAGE 'B' (REGISTRATION + ACCOMMODATION) = #180,000 (Optional)
It includes Team Registration and Accommodation.
PACKAGE 'C' (REGISTRATION + ACCOMMODATION + MEAL) = #250,000 (Optional)
It includes Team Registration, Accommodation and Meal
BENEFIT FOR PARTICIPATING
1ST Prize #1,500,000 (Winner)
2nd Prize #1,000,000 (1st Runner Up)
3rd Prize #750,000 (2nd Runner Up)
All Payments must be made into:
Account Name: Change The Game Projects Ltd,
Account No: 1018037141,
Bank: UBA Bank Plc.
PLEASE NOTE:
Accommodation fee is for 6 rooms / team.
A team is only allowed to register a maximum of 16 players and two officials / team.
Meal is for two meal per day (Breakfast & Dinner) Only.
Maximum of 64 team to Register for the Nigeria Youth Football Festival 2015.
All participating teams will be grouped and play a minimum of 3 matches each. 1 team qualifies from each group, and after which all games are played on knockout basis.
Roster Eligibility & Size
U21 born January 1, 1999 – 1994 (11-a-side)
Form Donwload
Download Registration form below, fill and send back to info@changethegameprojects.com